‍
1. Types of Wigs and Hair Extensions (Know What You Want)
‍
‍
The first step in your journey is to decide the type of hair products you want to import. There is a wide variety of wigs and hair extensions, each with their own advantages and disadvantages.
‍
It's crucial to decide which of them is best suited for your business before moving forward to manufacturing and shipping them.
‍
Let's dive right in!
‍
‍
Types of Wigs
‍
There are four main types of wigs, and many more classifications based on the type of knots, hair, and base materials. 
‍
‍
‍
‍

To find out more about each type of wig, check out this article written by our good friends over at Walker Tape. 
‍
‍
Types of Hair Extensions
‍
There are fewer types of hair extensions than wigs, but still enough to be very confusing if you're just starting your wigs and hair extensions business.
Hair extensions can be split into 3 main categories: based on their usage, method of application, and material they are made of.
‍
‍
‍
For more information on each type of hair extension, we recommend checking out this article from Zala Hair.
‍
‍
Which Type Of Wigs And Hair Extensions Should You Choose For Your Business?
It depends on what you're looking for. Some types of wigs and hair extensions are more popular, others are cheaper to buy, while others might be more expensive but will give you a higher profit margin.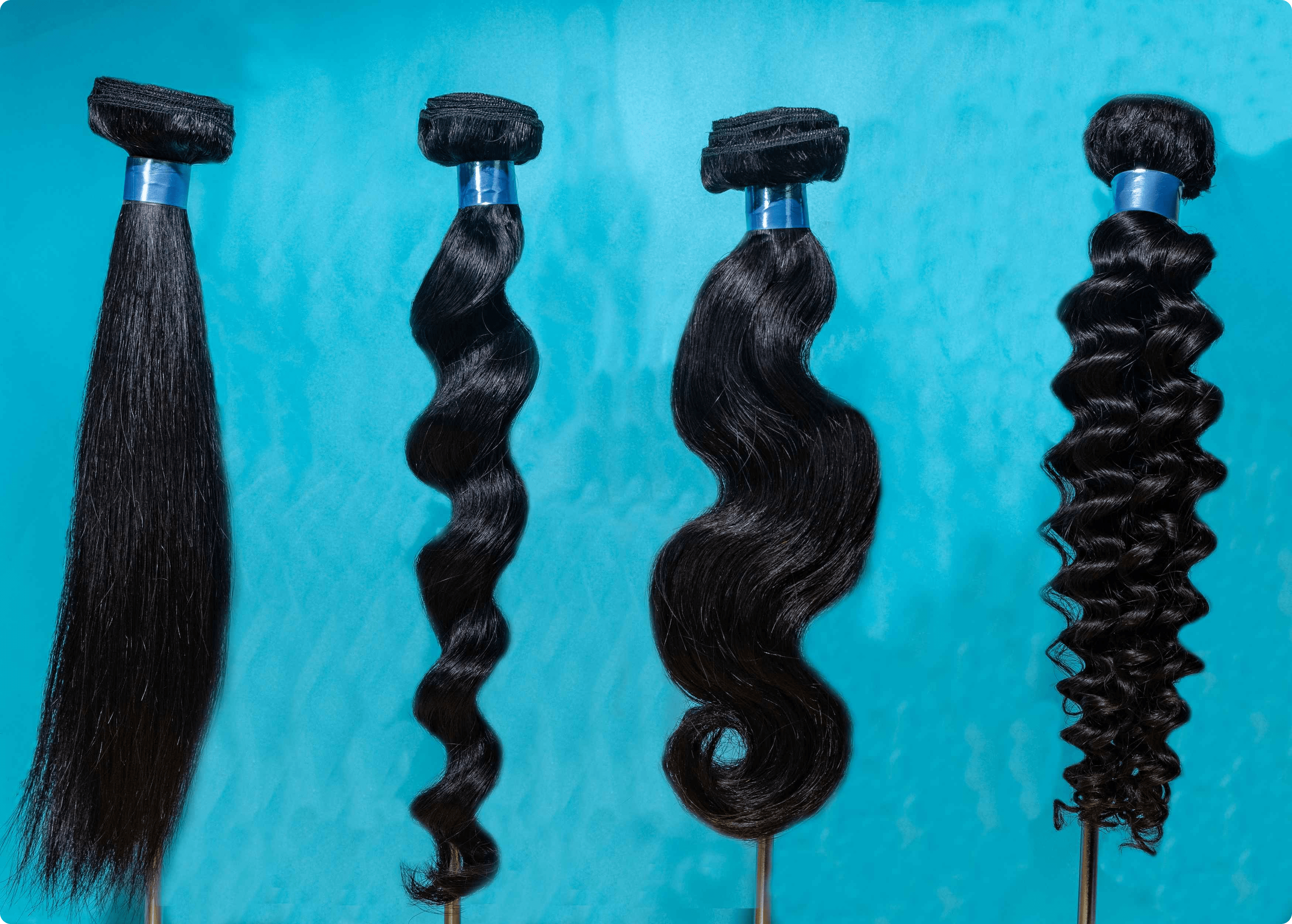 ‍
When it comes to the process of importing them from China, the type of wigs and hair extensions doesn't matter.
‍
What matters (and what can be optimized for cost-efficiency) is the quantity you're shipping, the way you are packaging the products, and the type of transportation you are using.
‍
‍

2. Finding a Reliable Hair Extension and Wig Manufacturer in China
‍
‍
We know that searching for Chinese manufacturers can be a pain for a variety of reasons: there are thousands, it's difficult to know which one is legitimate, there is a language barrier, etc.
‍
‍

‍
You can, of course, contact them and make up your mind from their replies (and their quotes). And we recommend you do that to start, but why not let us save you some time?
We put together a quick list of things to look out for as well as a few recommendations of suppliers we've worked with ourselves, below 👇
‍
Key Things To Look For In Your Chinese Supplier
‍
When it comes to hair extension & wig suppliers in China, or any kind of Chinese suppliers for that matter, the first thing you need to know is that a poor presentation does not mean poor service.
Them not having a website, or a website labeled as "not secure", or poor English is not an indication of poor quality or unprofessionalism. It just happens that they don't give much attention to this part of their business. 
There are 3 key things we recommend you pay attention to when researching a potential supplier.
‍
1. Alibaba Profile

Any Chinese supplier worth their salt will have their products listed on Alibaba. It's even more important than having a website in the Chinese wholesale ecosystem.
‍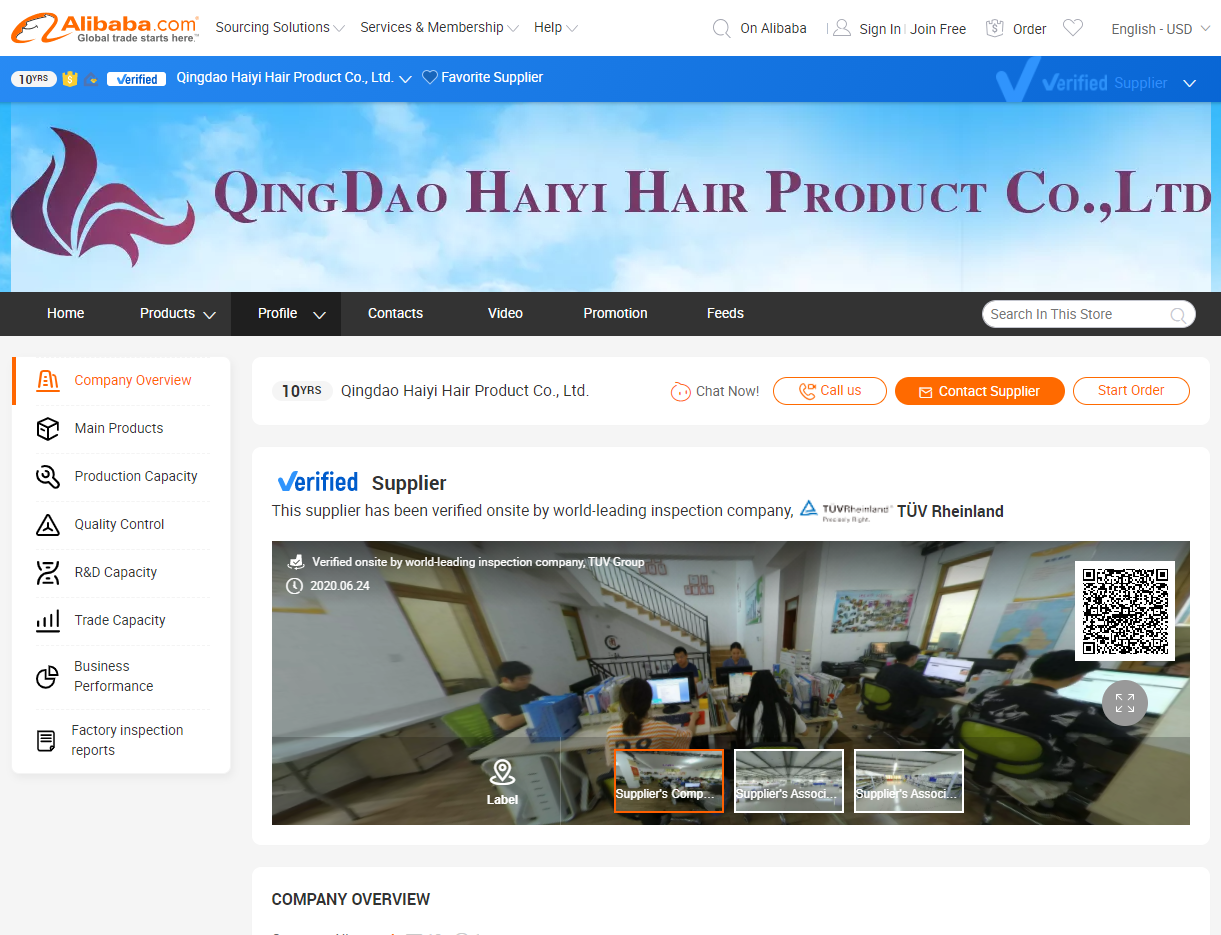 With an Alibaba profile, you will also be able to see other critical information about them, such as whether they are a 'Verified Supplier', or reviews from businesses that have already bought from them.
‍
2. 'Supplier Online Performance Index' and Reviews
According to Alibaba, the 'Supplier Online Performance Index' measures a supplier's performance in terms of presentation quality, product popularity, transaction volume, and service quality. It goes from 0 to 5, with 0 indicating the worst performance, and 5 the best.
‍
As a buyer, always look for 5 diamonds.
‍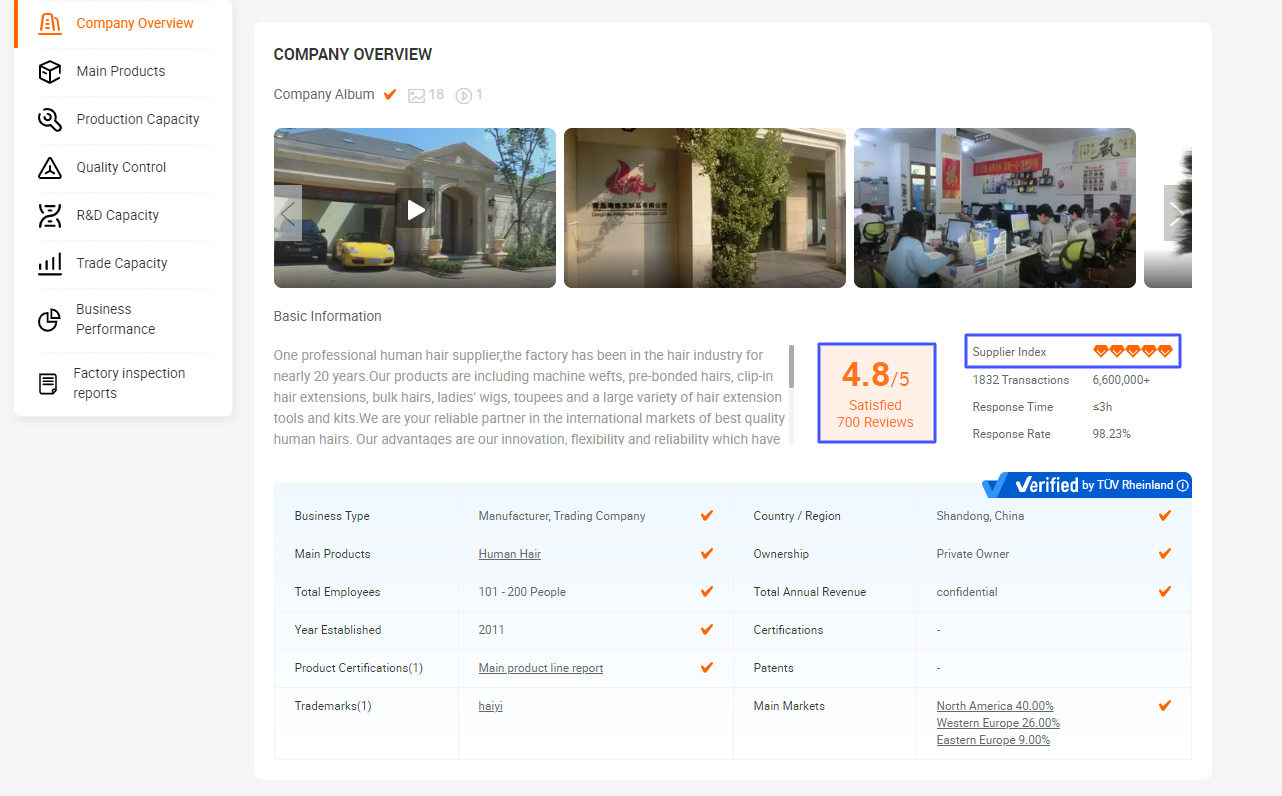 Reviews are, of course, always good to check. There are suppliers out there (such as the ones we will recommend below) that have an average satisfaction score of over 4.5/5 from hundreds of reviews. Don't settle for less than that, and make sure the quantity of reviews is big enough for the statistic to be reliable.
‍
3. Scam-potential and 'Verified Supplier' badge
The possibility of a scam operation exists everywhere, not just in China. That's why it's important to always do your due diligence and thoroughly research your supplier to make sure they are legitimate and trustworthy.
On Alibaba, one way you can do this is to look for the 'Verified Supplier' badge (you can filter all search results by this badge).
‍

Suppliers get this badge by being inspected and certified on premises by a professional compliance certification agency, such as TÜV Rheinland or SGS. Any supplier that has this badge will be legitimate.
‍
If your supplier is not on Alibaba, we recommend you do a Google search for "(supplier name) reviews" and "(supplier name) scam" and see what you find. You can also search for their registered company name with the same queries.
If you can't find something that makes you certain the supplier is legitimate, it is best to let them go.
‍
It is impossible to be a legitimate supplier in this day and age and not have some reviews about your business online or some other kind of conclusive online presence.
Speaking of reviews, make sure to also check that the reviews are legitimate. It's a common practice for companies to write fake positive reviews about themselves.
‍
‍
The Best Wholesale Hair Extension and Wig Suppliers in China
‍
We ship hair products such as wigs and extensions every week, and we've come across a wide variety of suppliers.
In no particular order, here are 4 hair product manufacturers we've worked with that we believe offer great products and services.
‍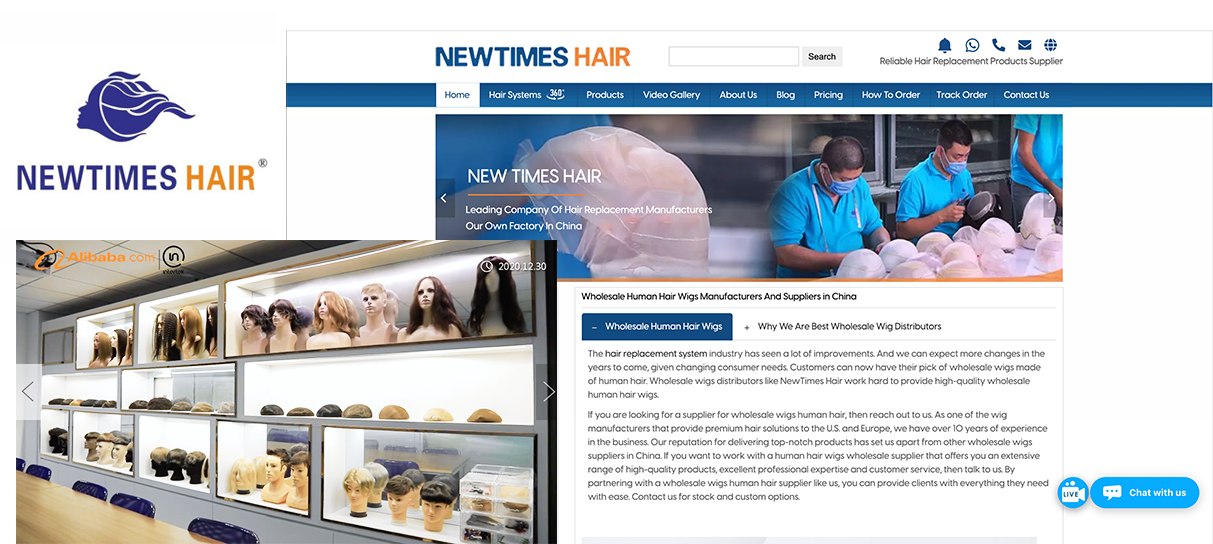 NewTimes Hair is based in Qingdao, China, and they have been at the forefront of the Chinese hair industry for over ten years.
‍
Their product range includes men's hair replacement systems, lady's wigs, and hair extensions, both from synthetic and human hair. They specialize in custom-made toupees and wigs, which have garnered a reputation in the United States and Europe.
‍
Their prices are competitive, and their quality above average. One thing that sets them out from the competition is their superior customer service.
‍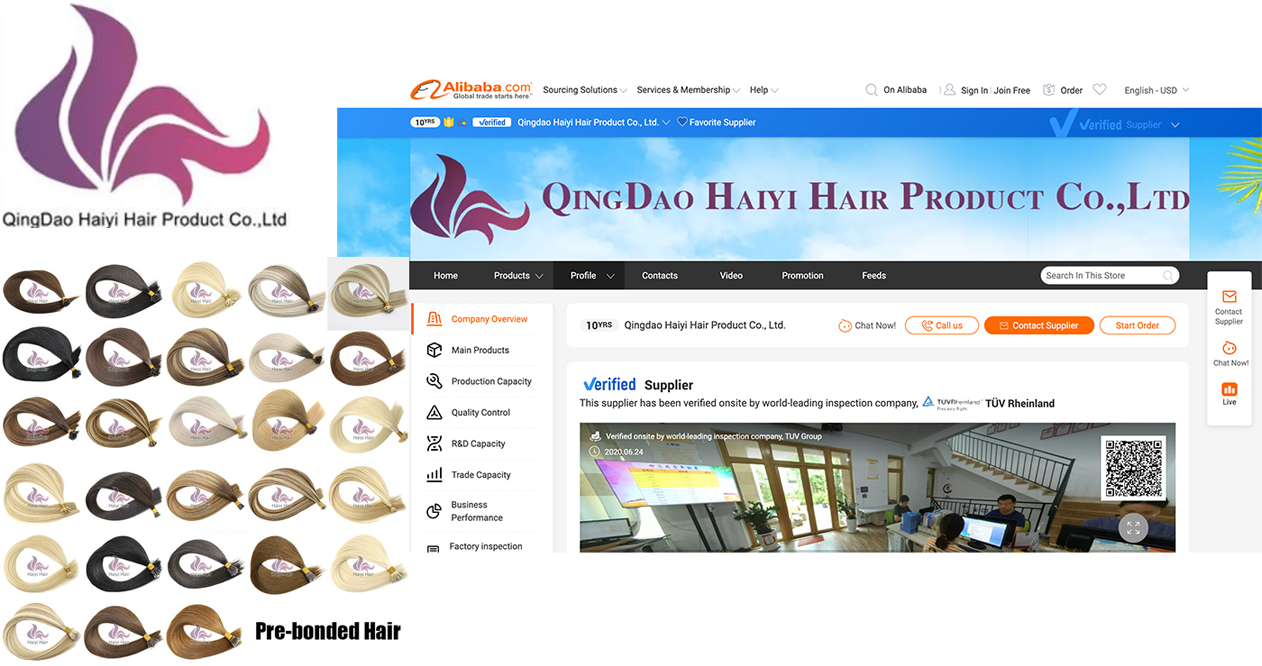 This factory from Shandong, China has been in the industry for almost 20 years. They are a highly reputable vendor, with a rating of 4.8/5 from 600+ reviews on Alibaba.
‍
Their products include machine wefts, pre-bonded hairs, clip-in hair extensions, bulk hair, lady's wigs, toupees, and a large variety of hair extension tools and kits.
‍
Their strength lies in their reliability as well as their customer service, and their products offer a good balance between quality and price. 
‍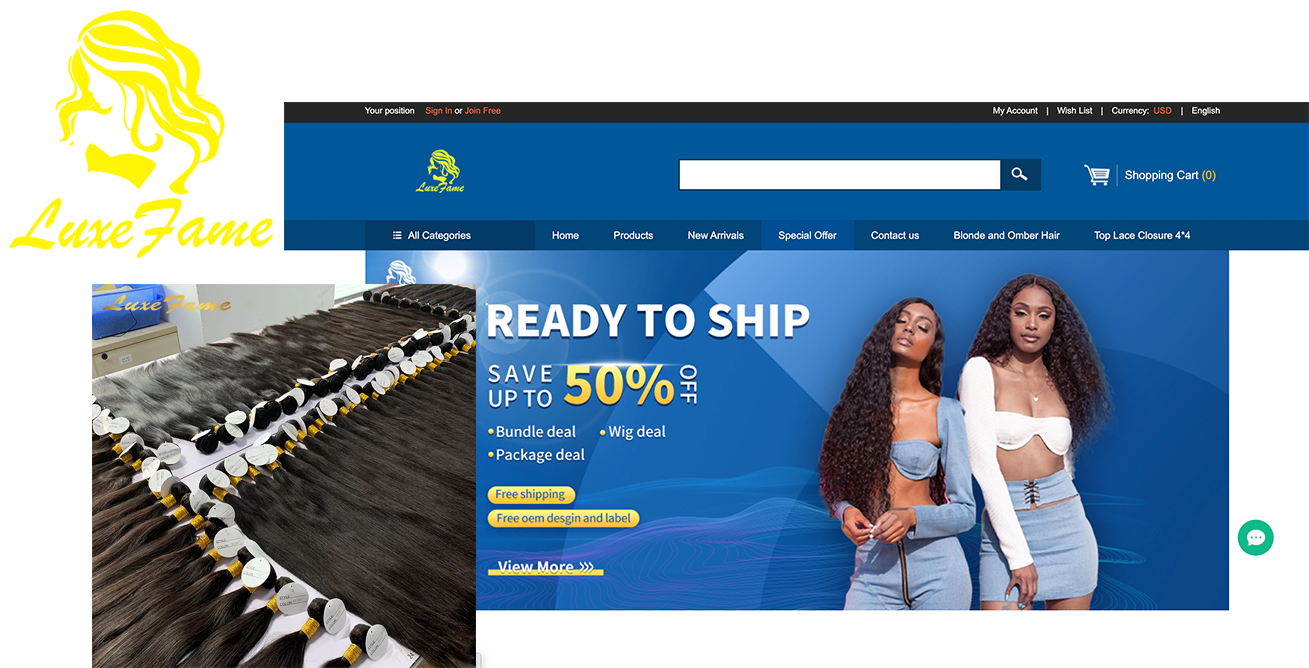 Luxefame, based in Guangzhou, specializes in hair products made of 100% human hair, including human hair weft/bulk, ladies' wigs, lace closure, synthetic hair wig, and other miscellaneous hairdressing products.
‍
Their products are well-loved in the US, Canada, as well as Europe, and their reviews show this: they have a 4.8/5 satisfaction score from over 500 reviews.
‍
Their Alibaba Supplier Index is also maxed out at 5/5 which indicates a high level of organization and quality standards.
‍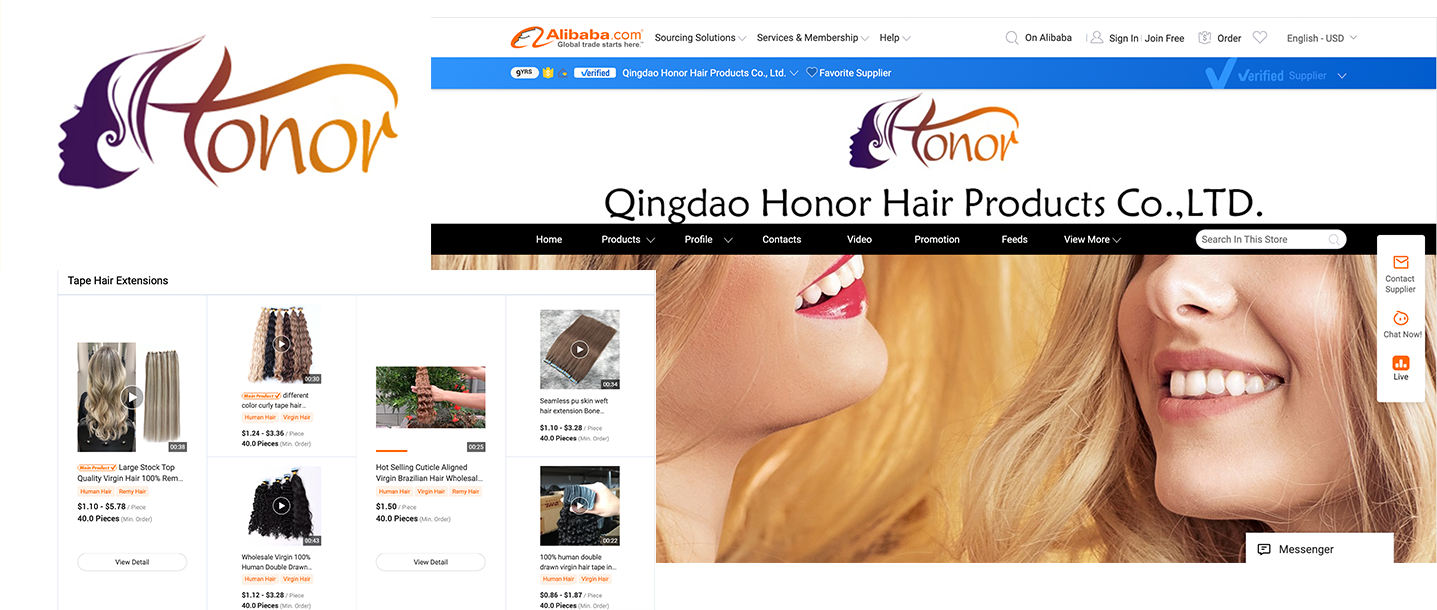 Also located in Qingdao, China, Honor Hair is a modern hair product supplier that has been exporting internationally since 2011.
‍
They design and manufacture a wide variety of wigs, hair extensions, and hairpieces. Their most popular products are the double-drawn straight Peruvian 100% human hair extension and their Brazilian 100% human hair weave bundles, but you should check out their other products, too.
‍
Their supplier performance index is 5/5, with a 4.7/5 satisfaction rating among their customers, and an impressive enquiry response time of under 3 hours.
‍

3. Shipping Your Hair Extensions and Wigs from China
‍
‍
Now that you know what type of hair products you want and you found a supplier to manufacture them, it's time to take a look at our favorite part – shipping!
‍
‍
Necessary Documentation for Importing Hair Extensions and Wigs from China
‍
There are no special regulations for shipping hair extensions and wigs, whether they be made of human or synthetic hair. They also do not enter into the jurisdiction of the FDA  (if you are shipping to the US).
So you will not need an FDA Certification or any other special type of certification.
‍
‍
The Two Main Documents You Will Need
1. Packing List: An itemized list containing product details, as well as the weight dimensions in kilograms (KG) or cubic meters (CBM).
‍
‍
2. Commercial Invoice: A legal document that describes the entire export transaction and the shipping terms: the price and value of the goods, the payment terms, and the total invoice value.
‍
‍
Importer of Record, Import License, and Customs Bond
‍

1. Importer of Record: An importer of record is the owner, or buyer, or trading firm that is in charge of all import obligations. If you do not have an importer of record in the country you're selling in, a third party, such as a trading firm, can arrange for a local entity to act as your importer of record. 
‍
2. Import License: This is a government-approved document that attests an entity is legally allowed to bring in certain quantities of goods into a region over a definite period of time. Many countries do not require an import license, but Canada does!
‍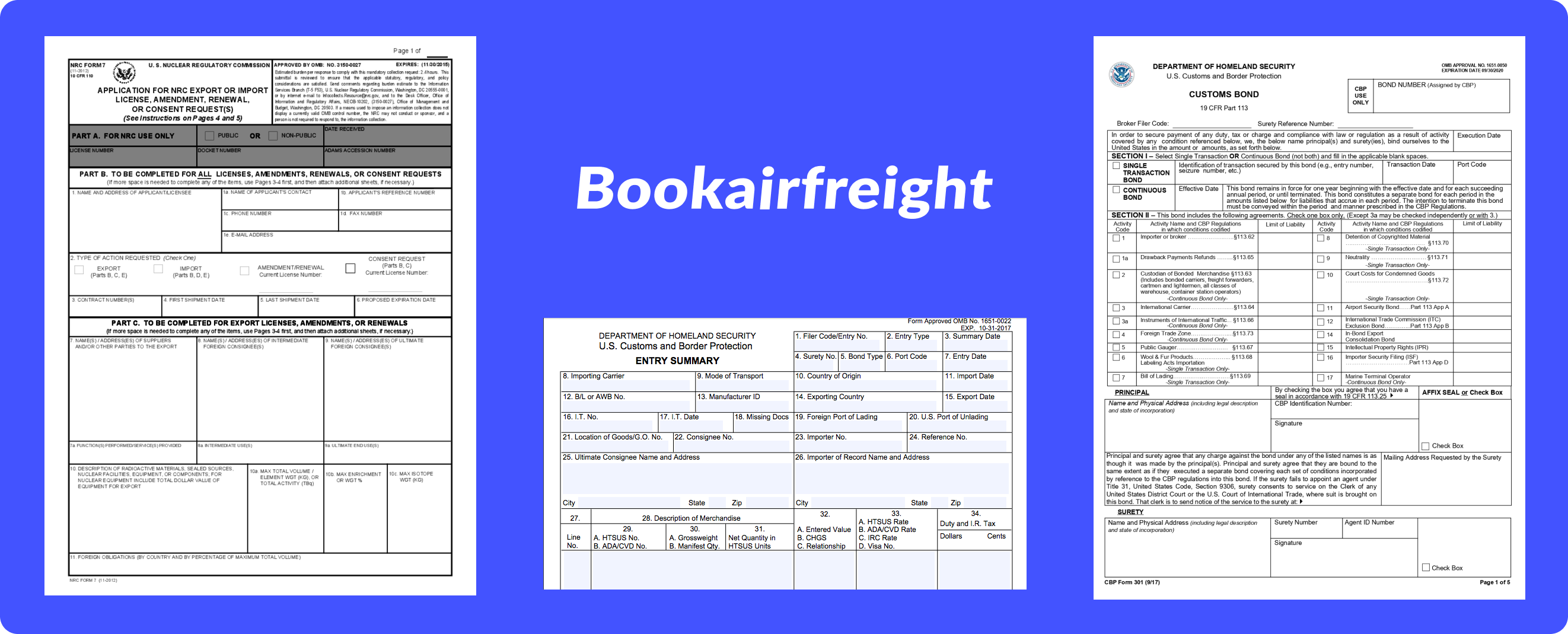 ‍
3. Customs Bond: A customs bond is a contract between the importer, Customs, and a third party meant to ensure that duties will be paid to Customs in full. This is only necessary for US Shipments.
We speak about these documents in more detail and we also show you exactly how to calculate your taxes and duties in our Complete Guide to Importing From China. Download it from below!
‍

Wigs and Hair Extensions Shipping Methods from China
When sourcing from a supplier's factory in China to your warehouse in the US or anywhere else abroad, your best pals will be air freight and ocean freight! 
‍
‍
‍

Which is best for shipping wigs and hair extensions?
Since hair products don't require any special shipping conditions, you will only need to consider the cost, speed, volume, and reliability of each of these transportation methods.
Air freight is faster and a lot more secure. So if you're tight on time, or if you are shipping premium quality hair extensions and wigs, air freight is the way to go.
‍
Air freight is also cheaper than ocean freight for shipment weights under 150kg.
But ocean freight starts being the more attractive option beyond 150kg. The bigger the weight, the cheaper ocean freight will be compared to air freight.
‍
So if you are importing a bigger quantity of hair extensions and wigs, and you are not too concerned about the speed of delivery, choose ocean freight.

We wrote a detailed article that delves deeper into this topic. Check it out:
‍
‍
Finding a Reliable Freight Forwarder in China
‍
‍
Look no further than Bookairfreight!

We are an online freight marketplace providing cost-effective forwarding services to SMEs, E-commerce, and Amazon Merchants.
• Skip the middlemen and enjoy 20% cheaper rates directly from our network of tier 1 forwarders.
• Benefit from free insurance of up to US$10,000 on every shipment.
• Book, track, and manage all your shipments in one single dashboard. 
• All-inclusive services: assistance with creating the necessary documentation, checking of labels & packaging, taking care of customs clearance and taxes & duties, last-mile delivery.
Work with the best. Get a free quote below! 👇
‍

Cristian Ungureanu
Logistics nerd and resident marketing guy of Bookairfreight. I love writing content that simplifies old-fashioned industry processes and provides solid, accurate information you can base your decisions on. Outside of logistics, I enjoy nature, hanging out with friends, electronic music and spirituality.